Despite being on a Monday night, the 66th Annual Primetime Emmy Awards faired well in the ratings. LostRemote reported that "6.2 million people had 10.9 million interactions" as compared to last year which saw "4.8 million people had 7.1 million interactions." Pretty impressive considering it was a fairly boring show especially since it was all repeat winners. Cable conspiracy?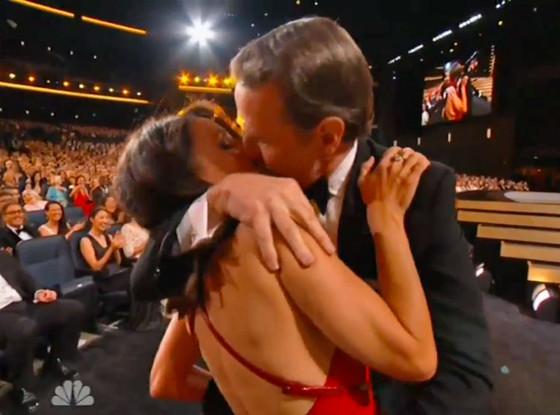 There was no Oscar selfie moment although we did have the pleasure of seeing a Clark Gable looking Bryan Cranston make out with his former Seinfeld co-star, Julia Louis-Dreyfus before she accepted her win.
For many of us, engaging in your Twitter feed is just as entertaining (if not more so) then actually watching the program live (yes, it actually happens!). I think the greatest potential for social TV are award shows and sports because that is when viewers are watching. However, I have been disappointed by the old cable networks during such events. Compare the social TV components of the Emmys versus the MTV Music Awards. Which network gets it? MTV, obviously.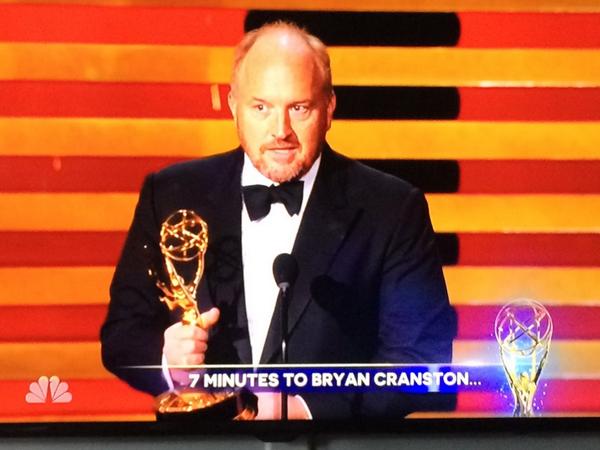 Even with a "young, hip" host like Seth Myers, NBC couldn't capitalize on having live viewers. The simplest thing they could do is have people voting via social media with their predictions. Have a banner going into commercial "next category is best actor in a comedy, tweet us who you think will win" then come back from commercial showing the results. (Although they had a lot of misfortunate banner moments like the one pictured above) Something The Bachelor does as well as many contestant driven "reality" shows do. Ellen at the Oscars at least understood she had to create moments that people would be buzzing about. There was no buzz for the peacock.